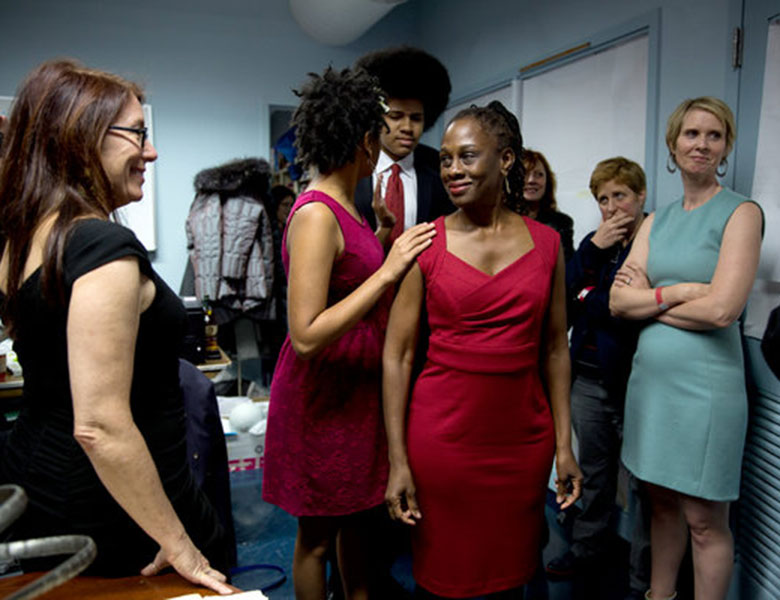 "I LOVE MY DESIGNS," Anni Kuan said the other day, her exuberance as unforced as her curve-grazing dresses, cocoon coats and boot-cut pants that lend a touch of raciness to her otherwise low-key designs. If Ms. Kuan is feeling on top of her game, she has reason. Among her fans is Chirlane McCray, New York City's first-lady-to-be and, for the designer, a reliable muse.
"When I'm looking at fabrics or at shapes, I think, 'Oh, would that look good on Chirlane?' " she said. "If I can focus on her, it helps me gather my thoughts." Lately that process has picked up steam. "For the inauguration, we have a week and a half to fit some dresses and a coat for her," Ms. Kuan recalled, her words tumbling out in a giddy cascade. "It is a big deal for us."
If Ms. McCray wears one of Ms. Kuan's designs when Bill de Blasio becomes mayor on Jan. 1, it will be a crowning moment in a nearly decade-long relationship that has endured since Ms. McCray discovered Ms. Kuan's minimally embellished, youthful-looking pieces at Otto in Park Slope, in Brooklyn, where she shops.
It was a busy and a very productive shooting day. We gathered a fabulous team: photographer, stylist, hair and make up, and bang, it happened.
Here is Giuliana wearing my favorite style of the Fall Winter season, the Snow Storm Coat.
Tip: coconut water is an essential at photo shoots, it rehydrates like no other water.